Karoon cement factory which is located in Khuzestan province with number of more than 500 people as employees, produce pozzolanic cement type I & II and the capacity is approximately 800,00 Tons per year.
Due to having qualified machinery and well equipped plant the product of Karoon cement is used in the construction of large projects such as dams, tunnels and High ways. Also, due to the international standards, a large volume of the product is exported.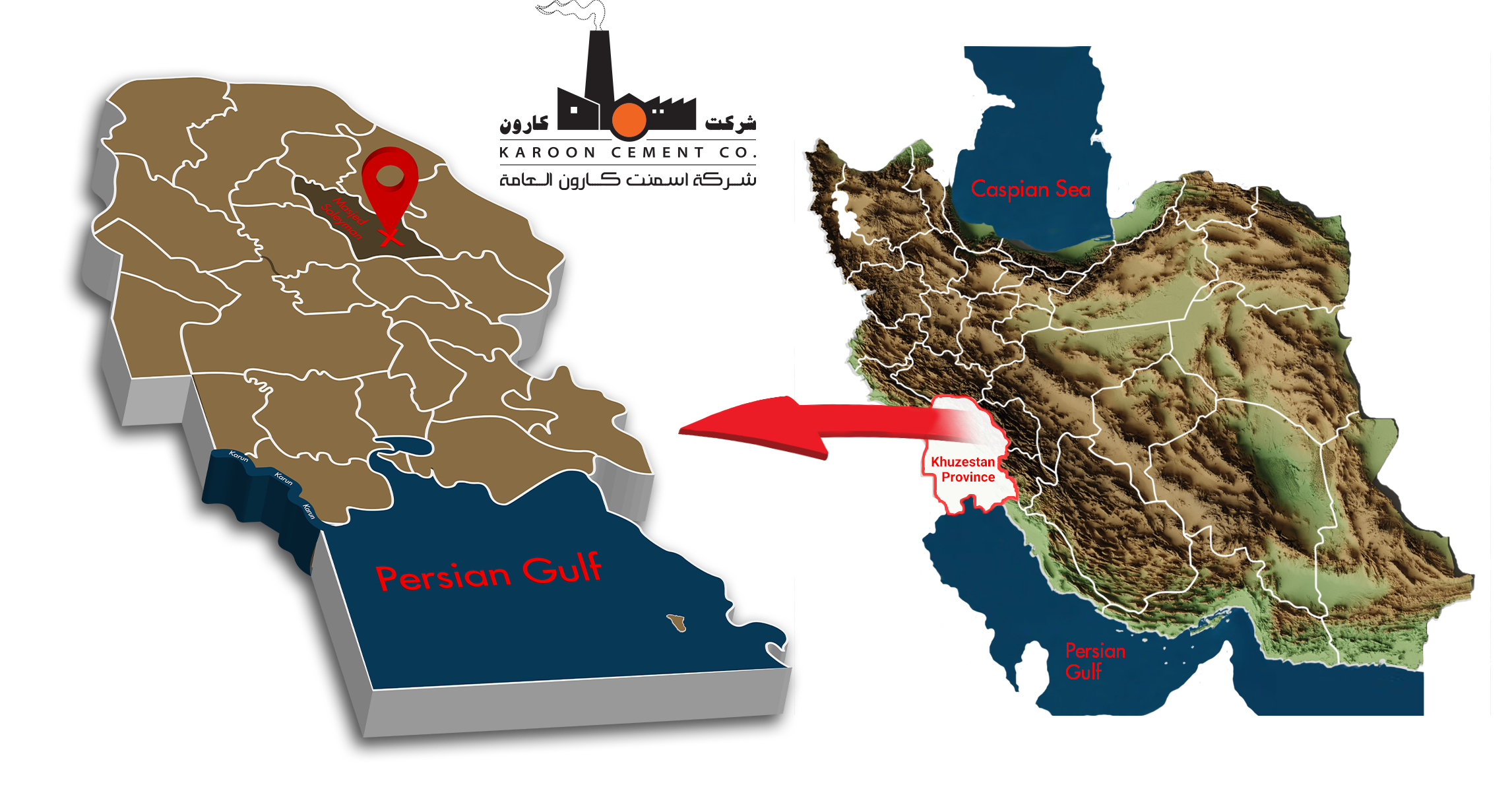 Introduction of a company
Karoon Cement is a leader in production
Karoon Cement Factory is located in Khuzestan province, 45 km away from Masjed Soleiman city.
This factory was officially opened in 2000 and now, after years of quality and standard production, it has a gray (or Portland) cement production line with a capacity of 3,000 tons of clinker per day in types 2, 5 and special cement. And the second line of its development plan with a capacity of 3500 tons of clinker per day is under construction.
Karoon Cement Dedicated Mines
Karoon Cement has two clay and limestone mines near the factory. The hammer crusher of the crushing unit of the factory with a capacity of 800 tons per hour, along with other equipment of the mixing hall, provides the same and homogeneous mixture of limestone, iron ore and clay for storage in the material warehouse. This crusher is able to break stones as large as 70 cm into 6 to 7 cm pieces.
The resulting material must go through the abrasion stage in the material mill and become a powder in order to become furnace feed. During this process, the mentioned materials are combined in certain proportions, which have already been approved by the quality control laboratory based on the type of cement produced, and finally stored in kiln feed silos.
Production process in Karoon cement
The kiln feed is preheated and calcined in the transfer path and after drying and partially calcination, it enters the kiln for the complete cooking process. The product of the kiln is called clinker cement. The produced clinker is heated to more than one thousand degrees Celsius and is cooled by air after entering the Great Cooler.
Part of the hot air produced in an energy recovery cycle is directed to the furnace and used as an auxiliary factor for fuel and flame stability. Another part of this volume of air is directed into the calciner and is used as air required for calciner burners as well as heating of raw materials.